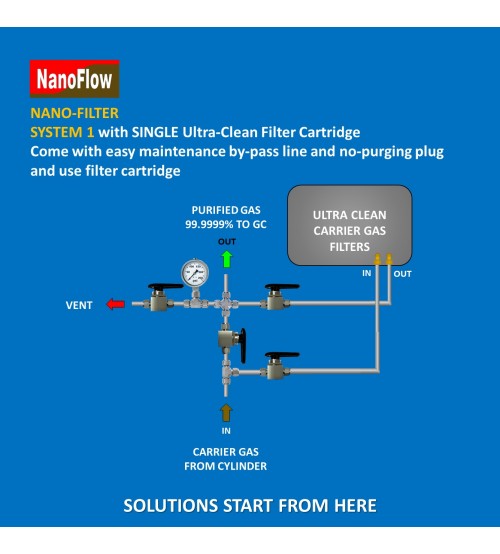 NANOFILTER SYSTEM 1 - For Helium Carrier Gas
Product Code: Nano-Filter System 1
Availability: In Stock
Start at
Price:
USD3,500.00 or
contact us
CONTACT NANOFLOW
Click on below link to contact our sales team:
Product Information
Single cartridge filter for economical operation.
Gas Filters can be installed or replaced within seconds without disturbing the analytical performance of the gas-chromatographic system.
Filter do not connect directly in to the gas line, but onto a specially designed base plate, allowing a diffusion-proof installation without the use of tools.
Filter have the capabilities to remove hydrocarbons, Oxygen and moisture to meet or exceed better than 6.0 gas (99.9999%). Purification is independent of original gas quality.
Benefit in increase lifetime of GC columns and prevent column bleed which is important to TCD and PID Gas Chromatography.
Eliminate or decrease baseline noise.
Eliminate Spikes and ghost peak.
Cartridge using fast-connect diffusion-proof design.
Maximum pressure at 11 bar (160 psig) with maximum flow of 7L/min.
Write a review
Note:

HTML is not translated!